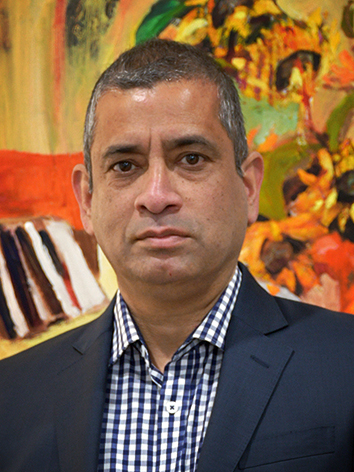 CHARLTON D'SILVA
CEO
A seasoned expert who possesses 27 years of knowledge of the media, professional expertise and proven methods of communication, Charlton has a wealth of experience in marketing, global media leverage and strategy. He holds a Master's Degree in Marketing and a Post-Graduate Diploma in Media Planning. He is a Fellow of The Australian Institute of Management. Charlton previously worked with The Times of India Group, News Corp and was most recently the Asia-Pacific CEO for Publicitas.
GANESH PRASAD
Chief Technology Officer
Ganesh Prasad brings to the CTO role more than a quarter century of IT industry experience. He is a recognised thought leader, who has made important contributions to user interface design (the "SOFEA" style), identity management (the "LIMA" model), enterprise architecture and management control systems ("Dependency-Oriented Thinking"). He holds a Master's Degree in Computer Science from the Indian Institute of Technology and an MBA from the Indian Institute of Management.
HANS-PETER ROHNER
CEO Europe
Hans serves as Chairman of JLS Holdings, Switzerland's leading digital signage company. In addition, he also holds the post of Vice Chairman of the Swiss Federal Media Commission, an advisory council to the Swiss government with regard to the media, which provides sustainable solutions to determine the future of the Swiss media landscape.
ANDREW IRELAND
Legal Counsel
Andrew has over 30 years experience as a transaction lawyer and regularly deals with mergers and acquisitions, company and business sales and purchases, private equity, equity raisings and managed investments schemes, advising on Corporations Act and ASX Listing Rule compliance, corporate governance matters, assisting board and management with strategic planning and providing contracts and commercial arrangements advice.
Andrew advises various entities, acts as corporate counsel and corporate secretary. He also has a particular interest with and acts for many start-ups and early stage businesses across many industries.
JOHANNA MAUREL
Country Manager France
As a passionate media industry professional, Johanna chose to become Parisian by adoption, in order to evolve in a fast paced environment. She holds a Master's Degree in communication and international marketing and has studied in several European cities. Having always been attracted by the international scene, she works in France, providing global and premium solutions across all supports (print, digital, OOH, event sponsorship and crowdsourcing). She thrives in the face of new challenges and seeks the stimulating excitement of upcoming adventures.
DARAYUS PATVA
CFO
Darayus possesses Post-Qualified Experience of more than 28 years. He has worked in diverse businesses such as Trading Houses, the FMCG industry, Public Transport, Media & Advertising, and even with Megaprojects. His experience spans over 10 years in Asia and the Middle East and he has worked with Pi since 2004. He holds a Bachelor of Commerce (Hons) Degree, is a Chartered Accountant from the Institute of Chartered Accountants of India, and also a Member of CPA Australia.